Supermom In Training: $100 Birthday Party Series – Kids | Parenting 101
2 min read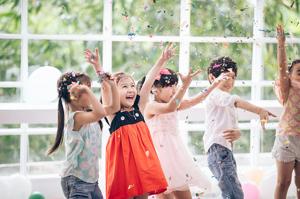 Birthday parties can be no fun for busy overextended parents. I'm excited to bring you my $100 Birthday Party Series with great ideas for themes, menus, decorations and even gifts for all age groups, all for under $100. Come back every week for more birthday party suggestions.
They're getting older, and birthday parties ain't what they used to be… the best way to curb the overspending on a party is by keeping the numbers down. A good rule of thumb: whatever your age, you can invite that many friends.
The other key to cutting down on costs: host it at home. There are loads of cool ideas for inexpensive at-home parties for kids ages 5-12. You could have:
– A sleepover party, complete with movies, tents, pizzas, make-your-own popcorn bar, glow-in-the-dark accessories, and an awesome breakfast in the morning.
– A dance party. Get your hands on a disco ball, strobe light, or fog machine. Add karaoke into the mix for some laughs. Throw in some fun stuff like blow-up guitars, plastic mics, cool sunglasses, and more.
– Olympic games' party. A variety of games and a few medals will keep kids entertained.
– A food fight. If you dare. Mention on the invitation that everyone should wear old clothes. Then arm them outside with a can of whipped cream and some foil pile pans. Have the strinkler or hose ready (this is obviously for summer birthday babes).
– A make-your-own party. Kids can make shirts (tie-dye or with their favourite characters), jewellery, model cars or airplanes, pillowcases, painted pottery, etc. While they're at, have them make their own pizzas or subs, make their own cupcakes or decorate their own cookies, and make their own juice bar.
If the thought of having a bunch of kids in your house for a party gives you hives, then consider other inexpensive options where you can host a party elsewhere.
– Community centres can oftentimes be rented. So can places like church basements, daycares, or even school gymnasiums. 
– Parks. Even in the winter you could have a sledding or skating party with cake and hot chocolate in the nearby chalet.
– Bowling. Renting a bowling lane and a few pairs of shoes, plus getting a pizza, should keep you at less than $100.
– Depending on the number of kids, you might also be able to host a small 'do at the movies with your child's closest friends.
A full-time work-from-home mom, Jennifer Cox (our "Supermom in Training") loves dabbling in healthy cooking, craft projects, family outings, and more, sharing with readers everything she knows about being an (almost) superhero mommy.